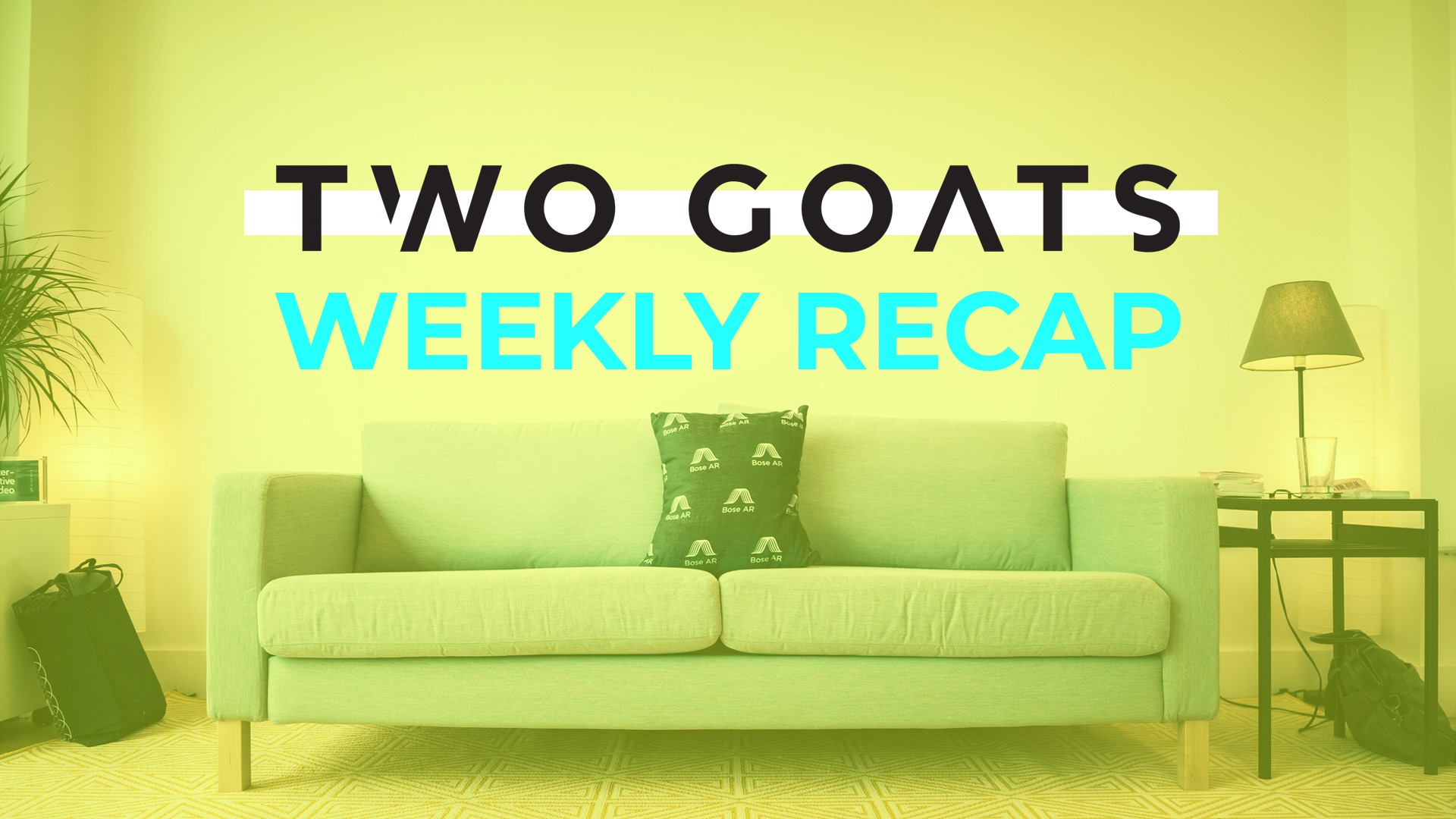 This week, we're noticing strides in WebAR capabilities and virtual try-ons beyond makeup. Vuvix, North, and Zappar are working to build a marketplace for consumer AR smartglasses and cardboard MR.
Virtually join the Gucci gang with Ace AR shoe try-on
Gucci rolled out an AR shoe sampling addition to its iOS app this week. The integration, powered by Belarus-based AR startup Wannaby, tracks your feet and overlays various colorways of the Ace sneaker line. Swipe between Ace models like Snapchat Filters — the Wannaby technology expertly overlays the digital shoe even as you walk or stand before the mirror. Capture your AR sneakers, save to camera roll, share with friends or buy the shoes directly on gucci.com. Wannaby is emerging as a major contender in the AR commerce space, competing with the likes of Modiface (see L'Oréal coverage from previous weeks), with its own Wanna Kicks and Wanna Nails apps that empower real-time recoloring. Add Gucci to the list of major sneakers working with AR shoe try-ons and visuals: Nike, Adidas, and Puma are also in the club.
Valve, maker of SteamVR, releases high-end Index headset
We crunched the Valve Index reviews populating tech websites and found a near consensus. The $1,000, roomscale, PC-tethered headset is luxurious in its specs, but does not significantly differentiate itself from its lower cost peers. Yes, it's 2019, and the $500 HTC Vive and $400 Oculus Rift S are lower-end.
VR geeks will love the expanded tracking space of the base stations, the bulky but highly customizable fit, off-ear speaker audio, high fidelity and wide FoV LCD display, and most significantly: the Index controllers. The controllers separate themselves from industry competitors with enhanced sensitivity to finger movement and pressure — but jury is still out on whether game developers will add Index interactions to pre-existing games. Its tethering to a powerful gaming PC will continue to hold it back in the race against standalones like the Oculus Quest.
8th Wall hosts a human hologram with WebAR
WebAR leader 8th Wall continues to push the envelope of what online augmented reality can do. Their latest integration is with 8i, a volumetric video capture company creating human holograms for XR platforms. The 8i technology stitches multiple cameras together to produce a high-fidelity 3D avatar. 8th Wall brings one of these holograms to your browser, accessible only in Safari but with merely a URL. The addition of volumetric video to this platform positions 8th Wall as one of the most powerful WebAR providers out there. The 8i integration is an important step to make WebAR a viable, high quality alternative to app-based AR.
Android Messages experiments with AR filters
Google is testing five AR effects for the Android's native messaging platform. Android dominates the smartphone marketplace with around 80% of all mobile phone sales. So these Snapchat-like AR filters, if formally released, will continue to bring AR to consumers at scale. Seemingly powered by Google's ARCore, the effects include an angel's halo, confetti, 3D balloons (with occlusion and human motion tracking). The slate of effects, with the familiar swipe-able UI, will live within the Android Messages built-in camera.
Zappar developed a mixed reality wearable. It's $30.
ZapBox could be the Google Cardboard of mixed reality. Turn your cellphone into a spatial computer: Zapbox wants to bring roomscale, interactive MR to consumers in mass. Outfitted with cardboard controllers and attachable pointcodes for tracking, it is slightly more accessible than the $2,295 Magic Leap One. Kickstarter here.
Facebook Reality Labs eerily close with its photorealistic virtual avatars
Facebook researchers with Oculus are betting big on the future of social VR experiences. A central component of that mission is developing high fidelity, responsive facial avatars to serve as proxies for users while in VR. This "Codec Avatars" project is still in its embryonic experimental phase.
As of now, your face can be captured by 132 cameras in a Facebook studio and transformed into a 3D model. Researchers then position cameras in the interior of the headset to capture and animate the virtual avatars in real-time, responding to the slightest facial expressions of the user. These digital doppelgangers are "years away" from reaching consumers.
Vuvix and North lead charge toward fashionable smartglasses
Vuvix leaked their plans for new smartglasses this week, featuring Plessey microLED technology and touch interfaces on each side of the frames. The AR display on both Vuvix and North glasses are essentially head's up displays, displaying simple but important digital information while not occluding the user's sight. Meanwhile, a Wall Street Journal story on Jony Ive's exit from Apple fueled rumors of the company's plans to release their own AR glasses in the coming years. "The design team has been working on augmented reality glasses that would give users visual displays of messages and maps. It continues work on annual updates to Apple's existing products."
Spider-Man takes over your Papa John's Pizza Box
Sony Pictures wants the immersive media fans out there to see Spider-Man: Far From Home. Order a Superhero XL two-topping pizza and get a limited edition box with an AR-enabled Snapcode to bring spider-man to life on your kitchen table. The Snapchat Marker Tracking technology recognizes the box and superimposes 3D models of the Palace of Westminster, the Tower Bridge in London, and the Rialto Bridge in Venice. For Oculus Rift and HTC Vive users, Sony Pictures gives you the spider suit to soar over the city in an interactive immersive trailer.
Axon Park offers in-VR creator masterclass
Survios co-founder Alex Silkin is teaching a class for expert-level immersive developers to further their skills in Unity and Unreal. The course is taught exclusively in VR with live classes twice per week, hosted by remote education company Axon Park.