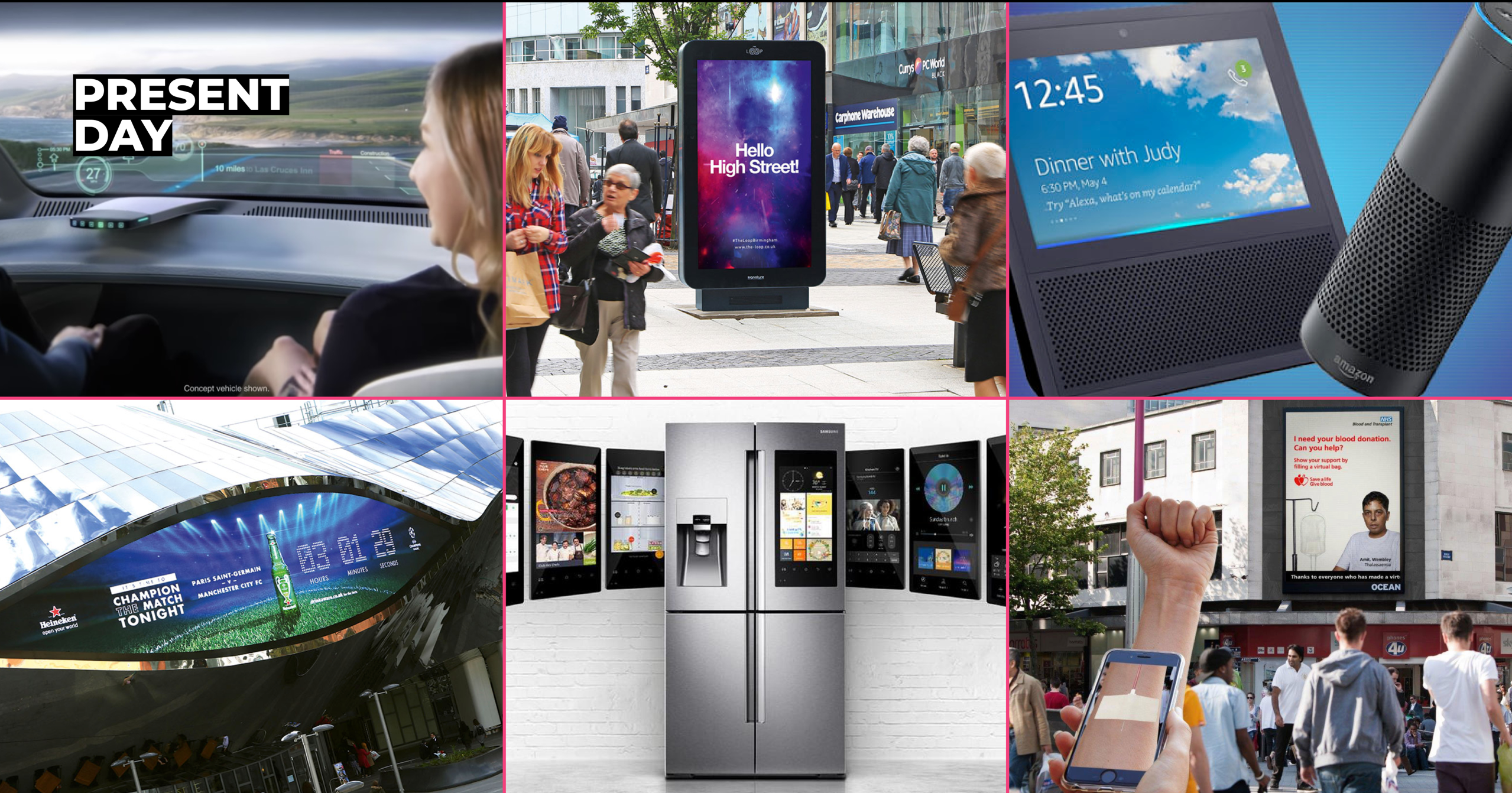 I was invited to speak for the DPAA (Digital Place Based Advertising Association) at the Samsung Concept Store, NYC. Myself, and a selection of other speakers  spoke about new uprisings in technology, such as AI, AR and VR.
Until now, AR has always been in an enclosed space, like smartphones. But how can it evolve? One of the answer is out of home space, lead by OOH, (Out-of-Home Industry in terms of Advertising.)
Nowadays, society relies more and more on the useful facets of technology. In fact, living in a world connected through AI, where people work in production innovation, proximity display, distribution, retail, destination and transportation, the portable technologies and the ones in our general lives are slowly fading the fine line between in-home and out of home technology, creating a uniform technology.
It has been proven how consumers becomes suddenly connected to an item when visualized in AR, rather than in a 2D format, and moves them to buy the item faster.
With the rise and increase popularity of AR, retailers have been seeing new opportunities emerging with this new technology, as it adds value in a virtual shopping environment. According to recent studies, it has been proven how consumers becomes suddenly connected to an item when visualized in AR, rather than in a 2D format, and moves them to buy the item faster. The reason behind it is because people think they already own the piece (for example, think about Ikea Place AR App, where the buyer can place the furniture inside their homes through AR) versus just seeing it and analyzing it on a laptop or flat smartphone screen.
Other positive facts emerged from AR reports show how people tend to remember brands and it can help speed up their buying decisions, generating quicker and greater amount of sales. Beside a sense of ownerships, the buyers get similar in-store experience through AR. It appears to be, that certain items, such as clothing or shoes, are frequently bought in store as it is preferred to use more than the sense of sight. With AR, consumers get similar feelings, which is a huge benefit for the companies.
As for OOH Advertising, this traditional advertising medium is quickly getting the influence of the digital and mobile world, increasing its revenue by 4.5%, which reached £1.1 billion in the UK in 2017, and is predicted to grow by 15% between 2018 and 2019. However, worldwide revenues are up to 13% this year, and it is predicted to expand by more than 10%, stated by the PO Media's 2017 Global OOH Forecast. Also, the DPAA estimated that 53% of out-of-home ad spending is going to be digital, instead of physical format. The placement of digital OOH into malls, gyms, elevators, taxis etc., is reorganizing the entire industry, as it is used to connect with old consumers and new audiences. OOH Advertising can be divided into three areas: digital billboard integrated with mobile advertising, rating systems, and partnerships of mobile data firms with OOH ad suppliers.
No matter which area is in, the OOH advertising methods are becoming technologically sophisticated. One of the new improvements are seen into the collection and aggregation of data, which would time the ad based on the demographic of people in a place. Another great development has been done to location tracking, which help advertisers to direct the ad to a specific audience, while minimizing the budget. This way, the audience is easily and more effectively connected to the brand, as they receive the right message at the perfect time, and not a cluster of unnecessary messages.
Through tracking devices, businesses have a better understanding on how shoppers interacts with competitors, helping advertisers where and when to properly advertise. However, it was found out that the most important factor of mixing mobile technology and OOH is conversion rate. As mentioned before, the shopper's response, like buying, brand and media researching, seemed to have increase by 22% in just half an hour of being exposed to OOH advertising. Amongst some of the advantages of Digital OOH Advertising are the absence of clutter: with less messages viewed, the buyer is more likely to remember the viewed items publicized. The content of the ad will be more controlled, aiming for a more brand safety content videos.
In order to launch the Flyknit Lunar 2 sneakers, Nike mapped a short film to the facade of the Mercedes Tower in Berlin and started Allyson Felix's run through the beautiful city. The project involved heavy work, as it required motion designers, 3D artists and animators.
This is a brilliant example of marriage between technology and advertising, and it shows how less intrusive and more powerful is than traditional medium.
Discover more about the DPAA here