Two Goats : Immersive News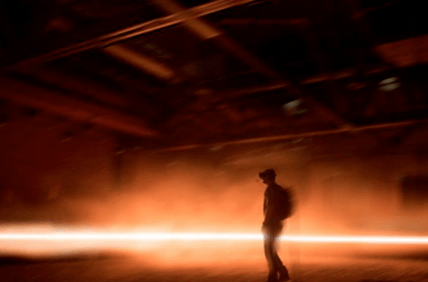 After a busy week in Miami, we're back at Two Goats HQ, be sure to follow our social channels for all behind the scenes footage from our production life. Here's a snapshot of AR/VR news and activations that caught our attention this past week.
Cross the Mexican Border to get to America (VR)
Alejandro G. Iñárritu, an award winning Mexican filmmaker has used the power of VR to put people in the shoes of someone that is crossing the Mexican border to get to america. This exhibition is currently on view in Washington DC;  "The installation is temporarily housed in a Baptist church wrapped in panels reclaimed from a border wall. When you arrive, you're told to remove your shoes and sign a release form in a room resembling a U.S. Border Patrol cell.  Afterwards, you're given VR goggles" –  it is an experience that can only be done alone.
BMW i3 3D AR Experience (AR)
The luxury car manufacturer is giving customers the opportunity to experience and explore BMW's i3 or i8 with the convenience of mobile app. The technology aims to create real-size, interactive visualizations of the cars. This is to give the customer a unique experience and to see if they enjoy the car before they  buy it.
Remy Martin HoloLens (VR)
Users can approach a 3-D table on which the HoloLens projects elements of Cognac Grande Champagne and Cognac Petite Champagne vineyards as the Cellar Master of the House of Remy Martin talks about the Fine Champagne region. This is to try to sell the product in a different way and to make you want to buy the product. They did this release last summer it worked very well now they are going to do another release at Coachella.
VR Education Works Better Than Traditional Training Technics.
Sexual Harassment Training (VR)
Morgan Mercer, founder and CEO of an emerging company is working on a sexual harassment training through VR. She believes that the traditional training is not enough and that putting another person in someone else's shoes works the best.  In the VR experience a person will see someone who is in an uncomfortable situation and a co-worker sends a text to this person and the person has to respond to the situation that is happening.  A marketing strategist thinks it would be the most effective if the person getting the training would be the person being sexually harassed. The training is expected to be around $29- $75 which is about the same rate for any regular sexual harassment training at most companies.
Firefox's new browser for VR
April 3rd Firefox came out with a new browser that is made for VR. instead of it being designed for your phone or computer it is designed to be used with a virtual reality headset. They are working on creating an experience rather than building applications.  This is available for all people that have a VR headset and they are going to try to make the internet a more VR friendly place starting with Firefox.
Apple Eliminates Self-Driving Boredom with Zombie-Game (VR)
Apple has invested a lot of their time lately in self driving cars, but they wanted to make sure people will not get bored while in self driving cars. Since when you drive a car a person has a sense of purpose and to stay alert, when a person will be in a self-driving car they will need to fight the boredom. Therefore, Apple wants to add VR to the self-driving experience. Apple has tested some games and the most popular one is a zombie chase game.
The Weather Channel Uses AR For Broadcast Content
The Future Group Partner with The Weather Channel (AR)
The Weather Channel has partnered with augmented reality studio "The Future Group" (powered by Unreal Engine) to incorporate an immersive AR experience into its broadcast content. The network has decided to use this type of technology to help explain better the science behind the weather and show more in depth and realistic content such as storms and cityscapes, in real time.  The Future Group will use a mixed reality presentation that will merge 360 HD videos and augmented/virtual reality elements generated by real-time data  that will "transport the audience into the heart of the weather."
Neurotypical teachers understand their students with autism (VR)
Dr. Vanessa Camilleri is a professor at the University of Malta that developed an app with her university students to create a VR experience to help neurotypical teachers understand their students with autism. This has already been since in VR but it is usually seen in a way to help the human with autism in some way maybe to be more social or on vocal skills, but in this VR experience it is the teacher that is put in to the mind of a person with Autism. They are also working on one for parents or family members. This is not yet open to the public but it is going to be put in some schools around Malta.
Move freely in any direction with the omni-directional VR treadmill (VR)
Infinadeck has created a new active omni-directional VR treadmill that will let a person move freely in any direction, thanks to a thread that moves under your feet generating a more natural movement. The first prototype was shown to the public at the first SVVR Conference & Expo. in 2014. From that year, the company has completely changed the treadmill. The newest prototype has a Vive Tracker mounted on the waist, which tracks the location of the user with low latency, and two Vive Trackers on the feet which are used by the user to visualize their feet. Compared to other treadmills like Virtuix Omni and Cyberith Virtualize, Infinadeck has a more natural feeling of walking as well as running and turning, even with a headset on.
Mercedes Virtual Drive On The Pacific Coast Highway In California.
Drive a Mercedes across the Pacific Coast Highway (VR)
Mercedes showed off its latest SL model with a virtual drive on the Pacific Coast Highway in California. During the drive, users were able to look around the interior of the car, look through the sunroof, and watch as the car navigated the road. When transitioned to convertible mode, a glance to the right revealed the Pacific Ocean. This was done in 360 video and will continue to be done in other places not just the Pacific Coast Highway in California.