Two Goats Journey into the Magicverse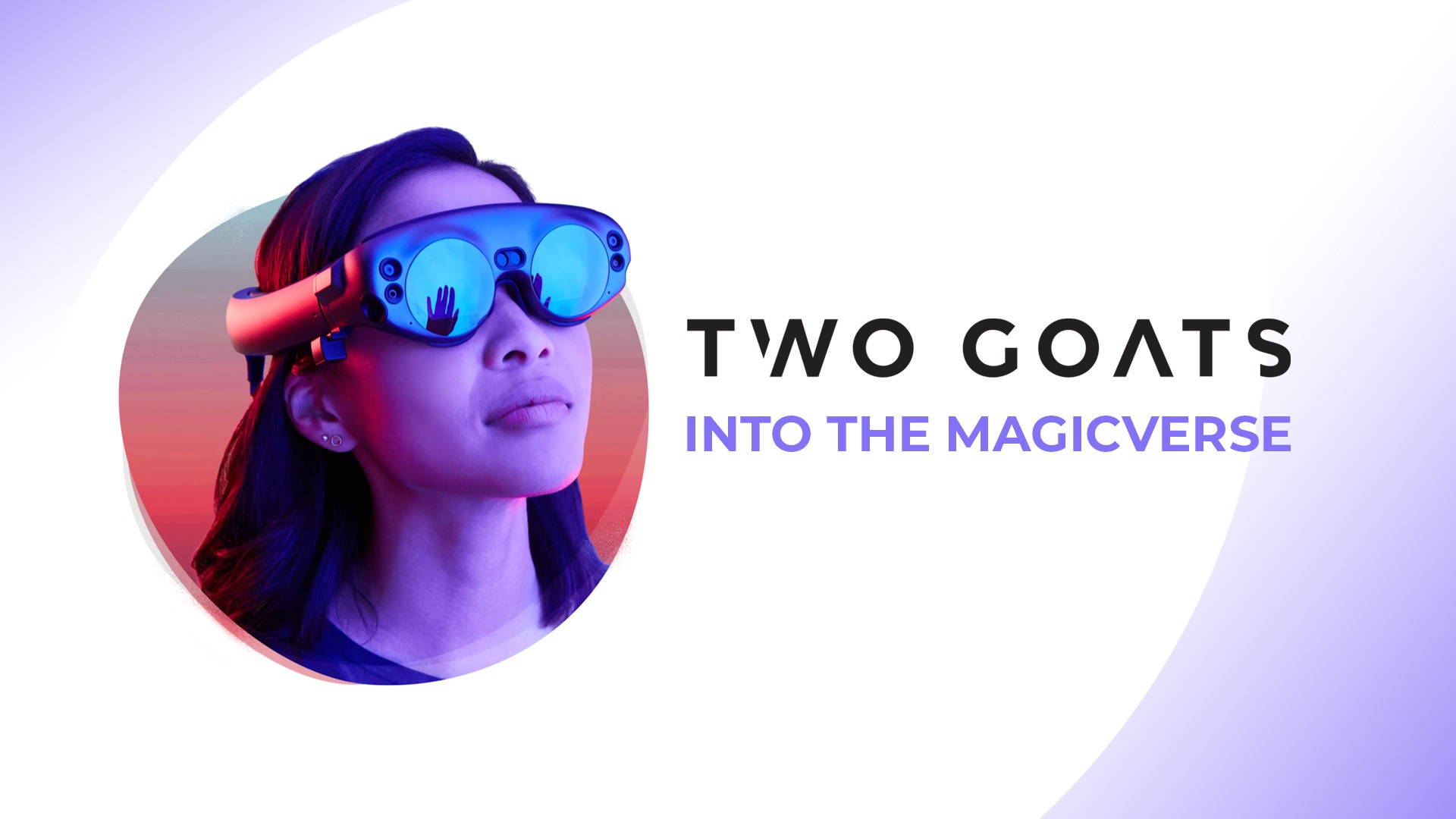 Two Goats experimented with the Magic Leap One at an RLab developer workshop. Read some of our reflections on spatial computing and the growth of mixed reality.
Magic Leap's first mixed reality wearable is a lens to a new digital/spatial domain: their so-called "Magicverse." In this new layer, digital information breaks free of the mobile phone and fills into city-scale space. Data becomes ambient, overlayed onto our physical world. Skyscrapers and kitchen tables transform into canvases for digital content, be that advertising, entertainment, healthcare, or news. All of this 3D content is only visible through wearable windows like the Magic Leap One.
The Magicverse is in its Big Bang stage. As spatial computing power continues to develop, how will brands create their 3D digital footprint on the physical world? Two Goats started looking for answers as we experimented with the Magic Leap One at a developer workshop hosted by RLab on June 25-26.
RLab in Brooklyn Navy Yard positions itself to be the New York City hub for XR. The new workspace operates among significant construction that promises to tech-ify and WeWork-ify the historic East River port. RLab, in operation since October 2018, builds its community through workshops and masterclasses that connect creators with technology. Magic Leap, in this case, is training a network of developers who can make the experiences that will populate its Magicverse. The 6-hour workshop was run by Tricia Katz, Developer Evangelist at Magic Leap.
The Magic Leap One device makes you look like a fly — but don't let the shape of the lens deter you. There aren't many bugs in these powerful first-gen frames, and Magic Leap has worked hard to curate a creator portal to ease the learning curve for longtime Unity, Unreal, and web developers.
"So when you make digital penguins walk off the edge of the coffee table, they fall off the edge of the coffee table, just like real penguins would."
Looking through the transparent One lenses, you see the world around you as through any glasses frames. When you activate the device via the handheld controller, 3D content appears in your field of view. But Magic Leap says they aren't an AR company: the One is a spatial computer. It reads and responds to the physical space around you.
Built-in sensors and cameras pinpoint suitable locations for digital information to create the illusion of digital/physical integration. This mixed reality technology makes sure digital objects are "contextually aware. So when you make digital penguins walk off the edge of the coffee table, they fall off the edge of the coffee table, just like real penguins would," reads the Magic Leap website.
In the morning, we had a chance to demo the ML One and try out some of the built-in functionalities and partner applications. The landing screen on the One includes "Gallery," home to 3D objects and 2D photos/videos; "Screens," where you can enable a second screen (or third or fourth or nth) and 3D models to place them around your space; and "Helio," a spatial browser which allows you to put your tabs around you in 360 degrees and extract 3D models from the web. Can't find the tab with that article you meant to read? Look up: It's probably above your head.
Magic Leap has four "north stars" guiding the emerging business, according to Katz:
1) Sensory field computing: they're building devices that touch the senses.
2) Lifestream: sensors that see you as you move about spaces enriched with mixed reality.
3) Human-centered AI: the development of experiences that rely on AI to learn about your personal movements as opposed to generic content.
4) Layers: digital overlays within city-scale space. Their vision for an entire Magicverse of digital layers and sensory experience is an ambitious one, and it hinges upon the enrichment of a talented creator community.
The NBA and CNN have been early partners in bringing MR experiences to the "Screens" part of the Magic Leap interface. In the CNN app, for example, you can activate a screen with a live CNN broadcast, and then simultaneously launch a "Spatial Explainer" story. These experiences include a screen with the CNN broadcast story and interactive animated 3D models of, say, the Thai cave that entrapped 12 boys.
Enlarge the cave in front of you, and use your Magic Leap controller to shine a flashlight in its nooks and crannies. Select a different overhead model, and scan your controller pointer over the spots where they got lost, or watch an animation as the rain falls and water level rises in the cave. The CNN app presents an entirely new beta model for "second screen" experiences: one in which the news comes to you, and you're in charge of how you consume your information. And one in which second screen becomes limitless screens.
In the afternoon, the RLab workshop gave us a chance to work directly with the hardware and start building experiences through Unity. The project set-up is staggered and difficult. There are a few too many steps to start development (a far cry from the low barrier to entry of a Spark AR or Snapchat Lens Studio). But once a Unity project is set up — developers can unlock so much interactive MR potential. Build either "landscape" or "immersive" applications: landscape apps put digital content or multiple screens in "bounded volumes" or specific 3D locations. Immersive projects completely close you in and pay little attention to the dimensions of your surroundings. It is a hugely powerful platform that will only improve as Magic Leap continues to modify the hardware and lower the barrier to entry.
The price tag for the Magic Leap One is a whopping $2,295: it is far from consumer viability. But the company of around 2,000 employees is just getting started, and it has multi-billion dollar funding to back it up. These first generation mixed reality wearables hope to eventually reach consumers at scale. Of course — a big driver of their success in future iterations will be the quality of the content.
The Magic Leap One is really cool. You can't help but feel that you're one of the first explorers in this new digital/spatial universe. We know it's early for brands and companies to start thinking about sending their spacecraft to the Magicverse.
Two Goats is excited to be a part in shaping a digital layer that promises to get people off their mobile phones and looking up. Thank you to RLab for hosting the workshop and Magic Leap for the time and access to your technology. Here's to more adventures in the Magicverse.