Building AR/VR with Amazon Sumerian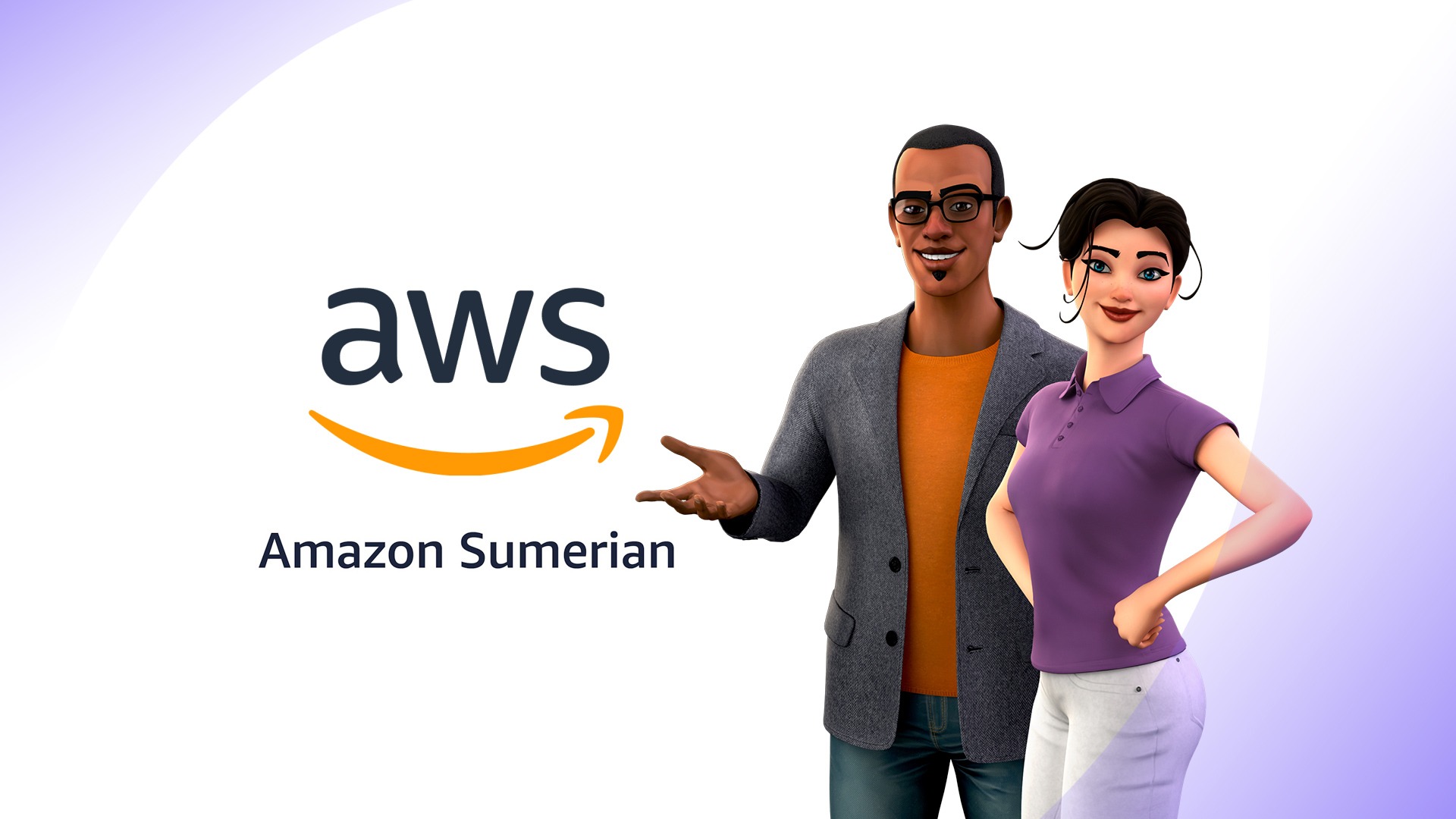 Two Goats attended the Amazon Web Services Summit to learn more about the tech giant's web-based AR/VR development platform: Sumerian. Catch up on our reflections on the service and potential applications for brands and entertainment.
Amazon Web Services is the biggest cloud computing platform out there — so they needed all of the Javits Center to celebrate it. The AWS Summit on July 11 buzzed with major players in New York's tech world. Of course, Two Goats showed up to take inventory of the newest AWS tools for VR and AR development.
AWS boasts a whopping 32% share of cloud services, and it showed: we felt like every client was in the building to showcase how to leverage Amazon's suite of web-based tools to power their businesses. In the main Expo Hall of Javits, premium sponsors Datadog, Intel, Veeam, and VMware commanded the biggest presence. Dispersed among the lecture halls and workshops rooms, two events concerned AWS' web-based XR development tool: Amazon Sumerian.
Sumerian is a powerful solution for developing and distributing enterprise and educational immersive experiences. Digital and Content Marketing Manager Jake Smeester rattled off some use cases for Sumerian: VR training, AR advertising and experiences, digital concierge applications, data visualizations, and training Machine Learning algorithms.
The platform separates itself in two critical ways: 1) the lightweight tool is entirely hosted online and 2) it features Sumerian AI Hosts who guide users through the experience. The built-in host functionalities supply the platform with its unique enterprise and educational utility.
Amazon Sumerian experiences are easily shareable online and across platforms: a URL is all it takes.
Sumerian staff tout the platform as an approachable alternative to sophisticated Unity or Unreal Engine, with a familiar interface for seasoned developers and newcomers alike. Once you build out your scene, Sumerian separates itself with its ease of sharing. Click one button to publish the scene publicly and share the link widely. Update it at any time.
For VR, Sumerian is a huge step toward platform-agnostic development. These Sumerian WebVR URLs can be accessed on any headset — Oculus, HTC, Valve, HP, Samsung Gear — you name it. These target devices have WebVR functionality, so Sumerian can auto-adjust to each type of controller and display to make for seamless cross-platform roll outs. Even within desktop browsers like Chrome and Firefox, users can rotate around the 360 scene with the click of the mouse. Sumerian is a game changer for WebVR and presents much needed opportunities for scale among training and educational experiences. No downloads, just a link. Click here to see what a simple Sumerian link can power: try opening in your VR headset or desktop browser.
For AR development — wink wink to brands looking for immersive marketing — Sumerian is a competitor to Snapchat Lens Studio, Spark AR, and now Apple's Reality Composer. Unlike its VR functionalities, Sumerian's AR template currently feeds into AR applications. But the most compelling Sumerian projects will be hosted online — they partner with WebAR provider 8th Wall to push the envelope of web experiences. The chief example of WebAR was the successful Miller Lite beer can campaign on St. Patrick's Day. The Sumerian-developed, 8th Wall-hosted activation brought the Miller Lite bearded man mascot to life with simple image recognition of the beer cans.
The Miller Lite ad campaign, developed on Sumerian and 8th Wall, ran for 3 days around St. Patty's Day. According to the Summit presentation, it was 7.5MB in size, and viewed 85,000 times. The total AWS costs tallied a mere $242.25, and the CPM was $2.85.
Hosts are the other differentiated element of Sumerian. Ideal for VR training experiences, these AIs can be programmed with node-editing and language processing to converse with trainees, guiding them through anything from fixing a car to buying clothes. The Sumerian Hosts enable XR use cases like Addison Care — Electronic Caregiver worked with AWS to build an interactive voice-controlled AR character who can hold EMT conversations, read vitals, manage medications, and more. Customers need only an AR-enabled device to interact with Addison — consider the ramifications of Host technology for employee education, training simulations, field serivce, and retail/sales. Every Host has the power of Amazon AI behind it, making the applications seemingly limitless.
We're really excited about Sumerian here at Two Goats. It's another huge step for scaling XR broadly — web-based experiences will be everything in our 5G future and Sumerian is the platform best equipped for that inevitability. We look forward to playing with it more and leveraging the tool for client experiences.